what some people say about Over Our Heads!

A DYNAMIC FOURSOME (Great American Music Hall)
MIXING SKETCHES, CHARACTERIZATIONS and musical numbers, Annie Larson, Marion Damon, Teresa Chandler and Karen Ripley join comedic forces in their improv group, OVER OUR HEADS. Undaunted by the risk-taking nature of improvisation these four comediennes interact with their audience to create an energetic and engaging show. Their fast paced style and razor sharp wit ensures that an intense performance is defiantly not over their heads.
Ruth Davis

Are you getting your Over Our Heads FIX Regularly?
You should be! Their humor creates laughter that heals. Keep your immune system tuned up!
(Mama Bears News and Notes)

"I've been in this business for 25 years and this is the funniest group I've ever seen!"
Cecil Sarten
Pure Talent Agency
Chico, CA

"Over Our Heads is the best group I've ever had."
Fionna Glendinning
Director of Programs/Entertainment
Chico State University

"Sure, they're fresh and funny. Sure, they use music and improv like nobody else does. Sure, it's a great show. But they aren't real ladies – you can tell by their sense of humor."
Jeff Thompson
Plutonium Players
"Ladies Against Women"

They [Over Our Heads} are fun!... I had an endorphin filled night… They saved my life.
Joanne Genet
Writer


OVER OUR HEADS
improvisation, comedy and music mix by Clarice Mazzanti

Freeze! Underwear saleswoman and bellhop. Salami. On your knees.
With these few suggestions, the four overly wacky sincerely crazy and extremely talented women of Over Our Heads are off and running.
Guaranteed non-stop laughter is yours. It's redundant to tell them to be funny. They just are.
Over Our Heads is a collaboration of Karen Ripley, Teresa Chandler, Annie Larson and Marion Damon.
Each a skilled performer in her own right, together they form a dynamic ensemble. Mixing improvisational comedy based on audience suggestions and hilarious songs, they capture their audiences, yanking them right through their funny bones in fact.
They can take the most ordinary suggestions and turn them into the most extraordinary humor imaginable. This is Improv at its very best. Timing is the secret and their lips are sealed.
With perfect chemistry, Karen, Annie,Teresa and Marion take the look, the word, the scene and manipulate it and each other into the ultimate in absurdity. What better base for laughter than a cockeyed look at real life.
You've never seen Improv like this. It's the best.
Over Our Heads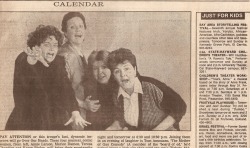 Our Heads is the "Bay Area's hottest women's improv group". These four versitle women perform a new show every time, Skillfully mixing improvisational comedy based on audience suggestions and hilarious original songs. They've delighted audiences for decades earning standing ovations and rave rewiews.
Over Our Heads
is a collaboration of Karen Ripley, Teresa Chandler, Annie Larson and Marion Damon Each a skilled performer in her own right, together they form a dynamic ensemble.
They can take the most ordinary suggestions and turn them into the most extraordinary humor imaginable. This is Improv at its very best.
Over Our Heads our paper/san jose by Clarice Mazzanti



If you haven't been to an Over Our Heads comedy concert then you must not be paying attention to what's happening in the world of the muse, because if you were paying attention, you wouldn't dare miss any opportunity to laugh your "a-double-ess" off with these four wacky women.
Karen Ripley's got her fingers in many comedy pies and we are lucky that she does, because she's one funny lady.
Stir in a little Annie Larson with her wild-eyed expressions and crazy accents; add a pinch of Teresa Chandler who sings good and laughs hard and makes you feel like laughing and singing too.
A handful of Marion Damon who can make no expression at all a laugh riot and the pie's complete.
Bake it together with familiar sketches always new because you provide the words that become the laughter.

March 3, 1993
Review of Ripley and Chandler by Bo McMuff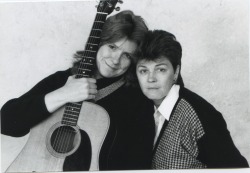 It was a night of laughter. Not your polite ho-ho stuff, more like the knee-slapping, eye-tearing, full-bellied chortling. From the first tune, sharing the torments of having too many ex-lovers in the same room, to the Karen Ripley, full body-bag safe sex demonstration, it was one gay evening.
A pleasant surprise was Teresa Chandler's rhythm and blues tunes, particularly her rendition of Big Mama Thornton's classic Wild Women Don't Get the Blues. Teresa doesn't just sing a little ditty, she reaches into the ethereal past of all women and brings forth a bit of our soul, garnered in a corner few dare to go into, and drenches us in melody from a throaty voice and an aching heart.
The comedy of Karen Ripley is irreverent lesbian humor at a mellow pace. Plenty of time to get the joke, otherwise it could be over our heads. She is so at ease on stage you begin to fell you're in your own living room hearing the Karen Ripley version of the daily news.
It is obvious the two women have worked together for a very long time. The improvisational portions of the show are at the same time funny and cosmic, taking cues from the audience and making the boring bright and the sublime funny. Running off in all directions, then tying things together in spite of the stretch. The duo received a well deserved standing ovation.
Teresa Chandler's first solo album of original music will be coming out in late winter and she promises to come back. Encore! Encore!

- ENTERTAINMENT - The Lavender Network


Teresa Chandler - Druthers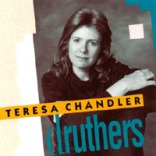 By Baron Dave Romm , BartCop Entertainment. 2008
In person, Teresa Chandler is shy and soft spoken. Alone with a guitar she's an experienced performer who knows how to use her voice. On the CD, she's a presence.

Druthers

is highly recommended. It's a bargain at CDBaby or through the iTunes store.
Read full review
here
Teresa Chandler - DRUTHERS HOT NOTES - by Laura Post

If you've seen her live performance, you know that Teresa Chandler is sensitively witty (she does comedy improv) as well as musically articulate (with her voice and acoustic guitar). You may not know that Teresa Chandler attributes her versatility to having lived in and adapted to the diverse cultures of Panama, Uganda, Pakistan and her native Arkansas.
Teresa's debut album, Druthers, co-produced by the renowned Nina Gerber (who also contributes guitar), features the supportive talents of such other local musical luminaries as Jake Lampert (drums), Barbara Higbie(piano), and Crystal Reeves (violin), but the message is Teresa's alone.
Each of the nine songs, written between 1972 and 1989 has something useful to give, There is the jazzy rhetorical questioning of "What Are Friends For", the longing in "Crazy Blues," and the friendly title cut. The most effective songs are those about internal struggle: trying to connect in love (the country "Highway Song") trying to live with oneself (Dark Road", with lovely harmonies), trying to live life day by day ( the poetry of "Doing What We Can [House Song]"). The best, most complete, most dramatically believable, is "Buried Alive", about trying to let go.
There are some fine tunes here, relating to love's myriad configurations. The stylistic diversity is incredible, as is the vocal range between understated-intimate and big -voiced emotions. Teresa Chandler does for love what Joni Mitchell did for clouds and what Judy Fjell does for trees: Allows us to experience them from several worthwhile perspectives.




Annie Larson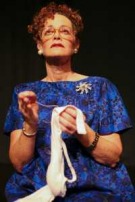 "Here" "…Annie Larson, gracefully eschewing caricature…." Robert Avila San Francisco Bay Guardian
Annie Larson in the the role of 'Pat' in the US premiere of Michael Frayn's comedy "Here", eliciting positive reviews and sold-out shows at the EXIT Theatre in San Francisco, http://www.sparestage.com/Previous_Here.html#Reviews,