The Troupe

Through the years we have worked with so many talented performers, musicians, photographers and artists. Whether we are working in duos, trios or all with five of us plus some guest performers, here are the core players, the heart, soul, voices and funny bone of OVER OUR HEADS.

Teresa Chandler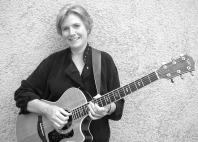 Teresa Chandler, singer/songwriter, comedienne, improvisor, writer and actor. A founding member of the galaxy's longest running women's improvisational comedy troupe, San Francisco's
Over Our Heads
! Other acting credits include : The History Theater's original production of
Wellstone!
, Mixed Blood Theater's Touring Company production of
The Deaf Duckling
,
Carol Burnett: A Time to Remember
,
Goddess on a Payroll
, and her two woman show,
Middle Age: the Musical
. Her CD
Druthers
is available at iTunes and CDBABY.com.

Teresa has toured the US and Canada as a solo performer and as a member of various musical and theatrical groups. Musically, she is equally at home with folk, blues, county, rock and roll, and big band swing. Teresa Chandler and Karen Ripley are the main songwriters for Over Our Heads and a remastered version of

I Survived a Fem

, the comedy songs of Over Our Heads will be available at the 25 year Reunion show along with a never before released DVD,

Over Our Heads, Classics

featuring scenes from some of your favorite shows.

Teresa teaches Improv as a Life Skill to actors and non actors.

Teresa grew up in the tropics of Panama, Pakistan, and East Africa and currently lives on ten beautiful acres near the St Croix River in Hudson, Wisconsin where she is completing her first novel.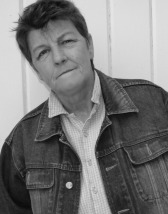 Karen Ripley
, Stand-up Comic, improvisor, songwriter, writer and actor came on to the comedy scene in 1977. From
The Fry Cook and the Singer
with Teresa Chandler, to the cover of the East Bay Express with Whoopi Goldberg, to Ms. Magazine's top 100 Lesbian Comics 2009, the "Grandmother of Lesbian Stand-up" is just getting warmed up. She is a founding member of the universe's longest running women's improvisational comedy troupe, San Francisco's,
Over Our Heads!
. Her original plays with Annie Larson,
Show Me where it Hurts
, won the 2005 SF Fringe Festival's Best Musical Comedy and
Waiting for FEMA
was featured in the SF 2006 Diva Fest. She was recently featured in Logo's Wisecracks.
Karen Ripley has taught improv to 100s of GLBT folks and has traveled all over the USA and the Caribbean. She is devoted to the arts and her community.
Annie Larson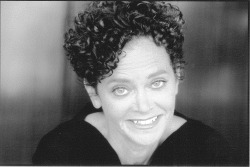 Annie Larson, San Francisco Bay Area native, is a founding member of the world's longest running women's improv comedy troupe,
Over Our Heads
!. Beyond improv, Annie's other work includes solo performance, roles performed on stages from SF to NY, voiceover and independent films.
Her favorite performances include characters developed with George Coates Performance Works, appearing in San Francisco and New York. She writes original material, which she has performed at the San Francisco and Vancouver Fringe Festivals, the San Francisco Diva Fest, Venue Nine, the Marsh and many other venues. Annie and fellow comic, Karen Ripley, received a "Best Musical Comedy" award at the 2005 SF Fringe Festival, for their piece:
Show Me Where It Hurts.
Recent appearances include the role of Pat in the US premiere of Michael Frayn's comedy Here, eliciting positive reviews and sold-out shows,
and as the paranoid, deluded, Countess Medussa Rappa in Iberia, a surrealist travelogue by Eddy Falconer.
She studies musical theater at Studio ACT in San Francisco, and works a full time day job at University of California, San Francisco
.
Pamela Stoneham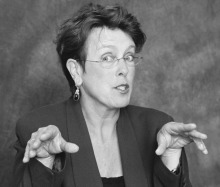 Pamela Stoneham has been living, breathing, loving and proselytizing (instigating) Improv for the past 25 plus years. She began her career as a performer and teacher, while living on the northern California coast in Mendocino, where she helped to form the long running comedy troupe of

Hit 'n Run Theater

. She traveled to and lived in L.A. for a time to hone her skills as an actress, studying method acting, but always felt the pull to return to the "aliveness" of doing improv theater. Pamela moved to the Bay Area in 1988 and became a performer and teacher for Bay Area Theatresports where her knowledge of improv grew and was stimulated by working with some of the finest improvisers in San Francisco. It was during this time that she met and began performing with the wonderfully wild, fabulously female comedy troupe Over Our Heads.
For the past 20 years, Pamela has been traveling and teaching at retreats and camps throughout the Northwest. She is a teacher at

Women Making Music

, a women's empowerment retreat since the early 90's and at their sister camp in Montana ,

Summersing

, From this connection Pamela was invited to travel to and live for a time in Japan, where she taught English through music. She will be returning for her 8th year to Camp Sunburst, a therapeutic arts camp for children and families living with HIV/AIDS. She currently resides in Seattle and is practicing her breathing.
Marion Damon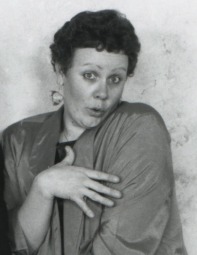 Marion Damon, actor, improvisor, singer, and writer. Marion joined
Over Our Heads
not long after it's inception and toured and performed with the troupe till 1996. She was also a regularly featured guest with the well know group,
Flash Family
. Marion taught workshops and improv classes and many of her unforgettable characters can be seen on the soon to be released
Over Our Heads Classics
DVD. Her daughter, Heather Damon, who grew up surrounded by the wild women of
Over Our Heads
occasionally joins the group and lends her strong sweet vocals to the mix. Marion left theater as a livihood to pursue other paths in her life but you never know when she'll make an appearance in a show.